Art or Adverts. Artistic interventions in the public space of Berlin's neighborhood Kreuzberg
"What kind of weird advert is this?" wondered passers-by on the streets of Kreuzberg when they spotted the graphically expressive posters of the exhibition (re)connecting.earth 01. Urban Gardening Berlin..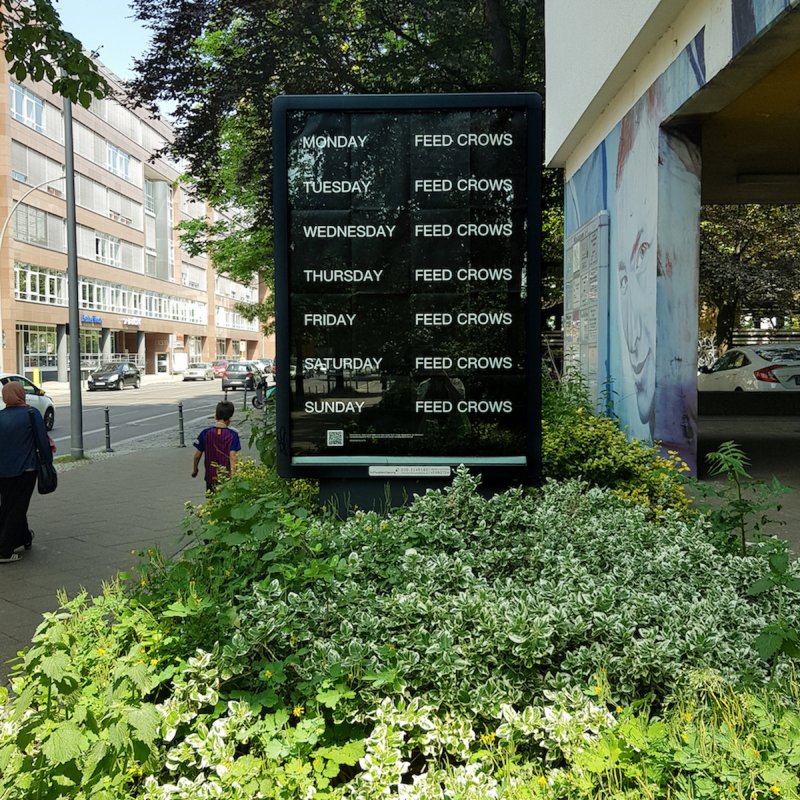 However, these are not advertisements, but artistic instructions that aim to draw the attention of city dwellers to the immediate urban nature and offer them, in concrete and metaphorical ways, the possibility of direct interaction with the plant and animal species living in the urban space. The exhibition includes 16 instructions by 16 international artists whose work deals with ecological issues, and encourages the involvement and active participation of the viewer. The instructions were placed by the curator Bernard Vienat on large billboards in public spaces in such a way that they attract the attention of all kinds of passers-by and form a contrast to the usual commercial advertisements.
The participatory component of the exhibition invites the audience to share photographs of the posters or their own realisation of the instructions on social networks under the hashtag #reconnectingearth and thereby spread the message of the exhibition. A QR code allows direct access to the project website, which invites anyone interested to discover further instructions that were presented in a different context at two other exhibition locations - the art project space Kurt-Kurt and the allotment gardens at Gaußstraße 14.
A first part of the instructions in Kreuzberg's public space will be shown from June 8th to 20th and a further part during the Berlin Art Week from September 6th to 19th, 2021.