Isabel Lewis, Thea Reifler and Philipp Bergmann
In the fifth Breaking Patterns, performance artist Isabel Lewis adapted her practice for the digital and invited participants to discover their environment by smelling, approaching and playing with their webcams, scrutinizing the technological surfaces, and engaging with another user by stripping in private. Lewis framed the session with a lecture accompanied by music in which she laid out Roslyn Bologh's feminist theory of erotic sociability. With that vantage point, Lewis developed the concept of the "unambitious stripper."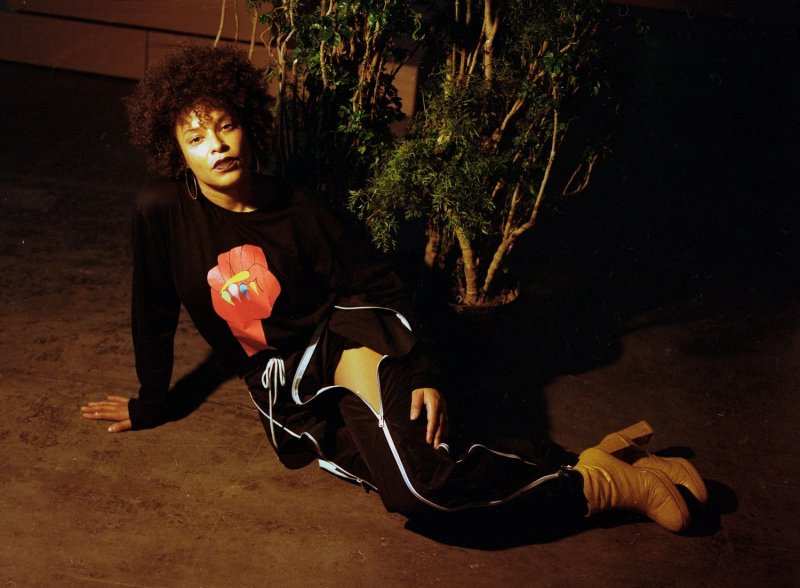 Video of the session
Unambitious stripper?
The figure of the "unambitious stripper" (chosen as original title of this masterclass) serves as a metaphor guiding us to connect with our inner worlds in order to become more radically receptive to our outer worlds. For Lewis "unambitiousness" is key to the notion of the unambitious stripper. The outward-oriented gaze of the stripper that usually reaches out to address and arrest the client with the ambition of monetary gain is turned in on itself in this scenario. In this movement workshop instead of stripping off our clothes, we will use our imaginations to turn our attention inward, toward the surface of our own skin and imagine peeling away layers of social constructs and identity to access a personal inner space. No formal training of any kind is required to participate and all adults with a curiosity about dance and other embodied practices are encouraged to attend. The unambitious stripper dances first for themselves and then for others ultimately reconnecting with the human and nonhuman presences they share space with. The dance that emerges is processual, a double motion of inner and outer, a becoming and an undoing, a movement on a continuum of becoming an object of interest and desire and being drawn out as an interested and desiring subject.
About Isabel Lewis's practice
Through persistent experimentation and embodied research practices Lewis creates formats for alternative modes of sociality between human and more-than-human agents. For Lewis any given format suggests ways of ordering the sensible and so how to engage with format is a deeply political question. "Hosted occasions", "open spaces", "occurrences", "arrangements", "activations" "expanded viewings", "sensory parcours" as well as workshops, lecture performances, listening sessions and party nights such as the 9-years-running Bodysnatch series in Berlin are to be found in the history of the artist's work. Trained in literary criticism and philosophy and with her artistic roots in dance, Lewis employs an expanded sense of the choreographic that centers its focus around generating affective bodily experiences that address all of the senses in her inherently collaborative practice. Lewis maintains long-standing collaborations with smell researcher and artist Sissel Tolaas, Berlin-based musical entity LABOUR, painter and ceramicist Matthew Lutz-Kinoy, theorist and classics scholar Brooke Holmes, and architecture collective Zuloark.
Isabel Lewis
Isabel Lewis (Born in Santo Domingo, 1981) is a Dominican-American artist raised on a man-made island in Southwest Florida. Before relocating to Berlin in 2009 she lived in New York City where she danced for many choreographers and showed her own commissioned works for the stage at Dance Theater Workshop (now New York Live Arts), PS122 (now Performance Space New York), Danspace Project at St. Mark's Church and The Kitchen. She also participated in other experimental formats and artist-run initiatives such as AUNTS, ClassClassClass, Bruce High Quality Foundation, and Movement Research Festival 2007 Reverence (Irreverence).
Lewis has created works around such topics such as open source technology and dance improvisation (Communal EPIC Fiction, 2010), social dances as cultural storage systems (Mountain Grass, Mountain Hare: bodily imprinting and social dances, 2012), future bodily techniques (BALLISTIC BODY, 2011), rapping as an embodied speech act (FLOW PLAY: Sensualized Speech and Hip Hop, 2013), and the sociological concept of erotic sociability (Unambitious Stripper 2017-ongoing). Lewis's work has been presented by Dia Art Foundation, Tate Modern, Centre d'Art Contemporain Genève, Kunsthalle Basel, Frieze London, Liverpool Biennial, Serpentine Galleries, Fondazione Sandretto Re Rebaudengo, Tanz Im August, Kampnagel, Gropius Bau, Göteborg International Biennial for Contemporary Art, Palais de Tokyo, Creative Time with Art Basel, Ming Contemporary Art Museum, Sharjah Biennial, and Karachi Biennial Trust among others.
Thea Reifler and Philipp Bergmann
Thea Reifler and Philipp Bergmann have been working together as artists, directors and curators in the fields of opera, visual arts, film, music theatre and performance since 2013, most recently in Berlin. Their process-based works and interdisciplinary projects are inspired by queer-feminist theory and practice and have been shown at Hamburger Bahnhof - Museum für Gegenwart (Berlin), 3HD-Festival - Kunsthaus Bethanien, Berghain, Hebbel am Ufer (Berlin), NOWY Teatr (Warsaw), Mousonturm (Frankfurt), Zürcher Theater Spektakel (Zurich), Hellerau - European Centre for Arts (Dresden), SPIELART-Festival (Munich), Opera Darmstadt, Sophiensæle (Berlin) et.al.
From 2020-2025 Thea Reifler and Philipp Bergmann will be the artistic directors of Shedhalle Zurich. With their concept PROTOZONES 2020-2025 they want to establish Shedhalle as an institution for process-based art. For the next semester they will also curate the guest program at Lucerne University of Applied Sciences and Arts.
Credits: Isabel Lewis's portait by Pedro Guilherme Ferreira
The series of workshops/masterclasses Breaking Patterns is organized and moderated by Bernard Vienat director of art-werk and is supported by Pro Helvetia in the frame of their Program Close Distance and Oertli Stiftung.