Round table on urban biodiversity with local actors Esther Um, Pierre-Alain Tschudi, Ann-Kathrin Audren, Werner Zapf
Auberge des Vergers (Vergers), Meyrin
As part of the opening of the (re)connecting.earth exhibition in the EcoQuartier "Les Vergers" in Meyrin, a participatory roundtable discussion on urban biodiversity was held with local initiatives as an example. The expert panel included the following: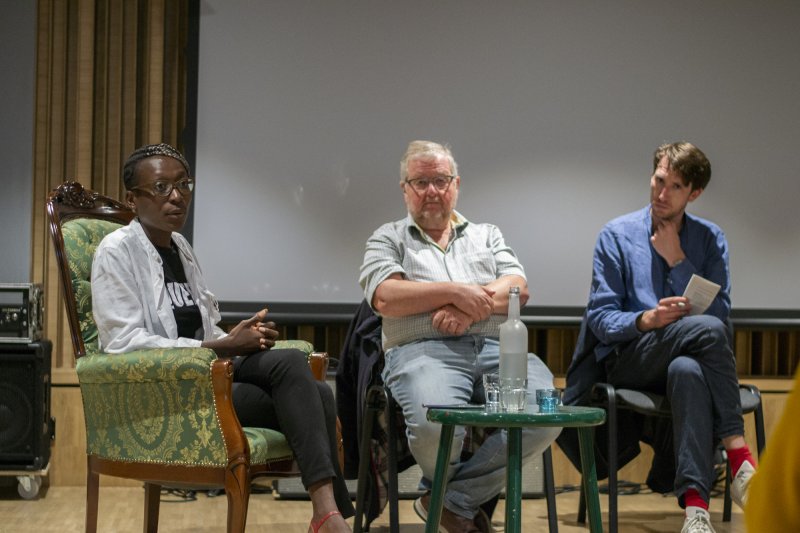 Esther Um (co-initiator of the "Citizens' Assembly in Meyrin" project).
Esther Um defines herself first and foremost as an activist. She is active in social and cooperative movements and is above all committed to equality and the future. As a municipal councillor in Meyrin in the ranks of the Green Party, she is also involved in a working group that aims to set up a citizens' assembly for her municipality. She has a degree in literature and is employed as a research assistant at the University of Geneva; entrepreneur in the cooperative neonomia, where she develops engaging French courses and discrimination awareness workshops.
Pierre-Alain Tschudi (former mayor and former board member in charge of urban planning for the city of Meyrin and co-initiator of the Les Vergers eco-district project). Pierre-Alain Tschudi was a member of the town parliament (municipal council) from 1995 to 2008. From 2011 to 2020, he is a member of the executive of the city of Meyrin (board of directors). He is responsible in particular for energy, public works and urban planning. In this capacity, he has followed the planning of the eco-neighbourhood from the beginning as a town councillor and then assumed political responsibility for the project throughout the implementation phase from 2011 onwards. For this reason, he was at the centre of all negotiations with the various stakeholders. Pierre-Alain Tschudi has been a member of the Green Party for 30 years.
Werner Zapf (President of the Association des Potagers des Vergers)
Werner Zapf worked at the Council of Europe for six years. After almost 40 years at CERN in Geneva, where he was, among other things, Head of Human Resources, Werner Zapf is currently President of the Association des Potagers des Vergers and an honorary member of various neighbourhood initiatives.
Ann-Kathrin Audren, employee at the participatory supermarket La Fève