Corinna
Artist

Denis Savary
Year

2019
Edition

15
Technique

Thermoformed and painted plastic Production: Atelier Muro, Genève / Ateliers construction décors de la Radio Télévision Suisse
Publisher

Edition VFO, Zürich
Dimensions

90 x 62 x 11 cm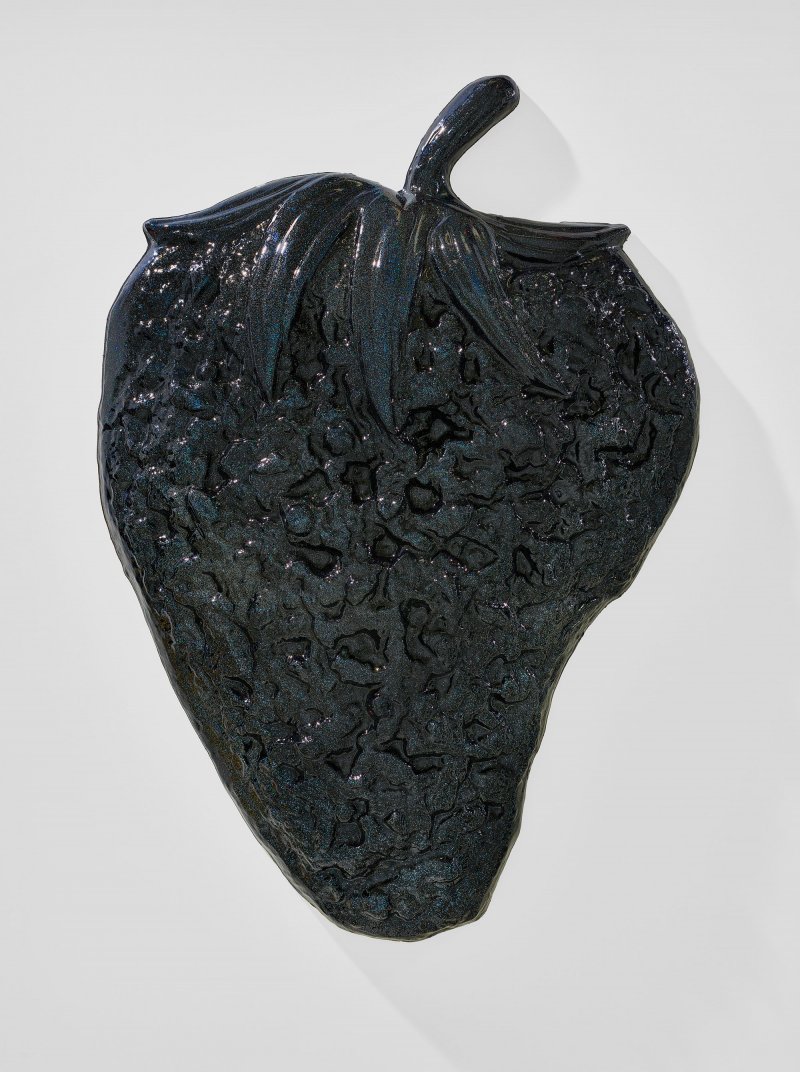 In Denis Savary's work, the choice of motif, curves and colours creates a network of meanings that refer to literature, art history and industrial design. An oversized, thermoformed and black-painted milling cutter is placed in relief on the wall as a dream come true.
Entitled Corinna in homage to the vaudoise writer Corina Bille (1912-1979), the object refers to a famous novel by the author: "La fraise noire". In addition to this reference to a writer who has left her mark on the French-speaking world, a form of reactivation of her writings, Savary's mural sculpture is also a direct allusion to art history and its symbolic potential. The black strawberry, which comes from the late November harvests, has been an erotic symbol since the Middle Ages and is frequently found in Jérôme Bosch's paintings. In contrast to time, the use of thermoformed plastic refers to a commercial technique for mass production. A radical printing technique that has been used since the 1960s by pop artists such as Claes Oldenburg and Richard Hamilton.
Denis Savary's artistic practice reflects his taste for experimentation and his pleasure in collaborating with other artists and craftsmen. Taking on techniques as varied as video, sculpture and drawing, Savary designs works featuring savoir-faire and literary and iconographic sources that everything seems to separate. As they are conceived, the works are loaded with different stories.
Denis Savary obtained his degree in visual arts in 2004 from the Ecole Cantonale d'art de Lausanne (ECAL), where he is currently a professor. His work has been exhibited in solo exhibitions at the Kunsthalle in Berne (2012), the Mamco in Geneva (2015) and the Musée des Beaux-Arts in La Chaux-de-Fonds (2019). He has received numerous awards, including the Swiss Art Award in 2004 and 2007, and was awarded the Landis & Gyr Foundation Workshop Grant in London in 2018.