(re)connecting.earth – Dessau
Artists
Caroline Bachmann
Swan Collective
Bianca Kennedy
Julian Charrière
Fabian Knecht
Andreas Greiner
Takafumi Tsukamoto
Pfelder
Simonne Zaugg
Eli Cortiñas
Luzie Meyer
Zheng Bo
Antje Majewski
Valérie Favre
Regina de Miguel
David Horvitz
Adrien Missika
After stations in Berlin and Geneva the show is now making a stop in Dessau at the Umweltbundesamt. The presentation at the Federal Environment Agency (UBA) offers a chance to investigate the scientific components raised by the artists' instructions and to develop a regional project that includes students and civil initiatives.
The need for lively urban nature and the revegetation of cities has come into increasing focus in recent years. But what is urban nature and why is it so important? The traveling exhibition reflects on our perception of and relationship to non-human creatures and offers food for thought on how we as a species can (re)develop new relationships with nature. Nature is seen as a complex ecosystem, in which every interaction - whether between microorganisms, insects, trees or even wild herbs - entails a series of effects. For (re)connecting.earth, 16 international artists have created instructions for the realization of artworks that offer viewers the possibility to interact with the animals and plants living in urban space in a concrete or figurative way.
As a prelude to the opening, a workshop with Andreas Greiner will take place at the Federal Environmental Agency on June 23, 2022, 3:30 - 5:30 pm.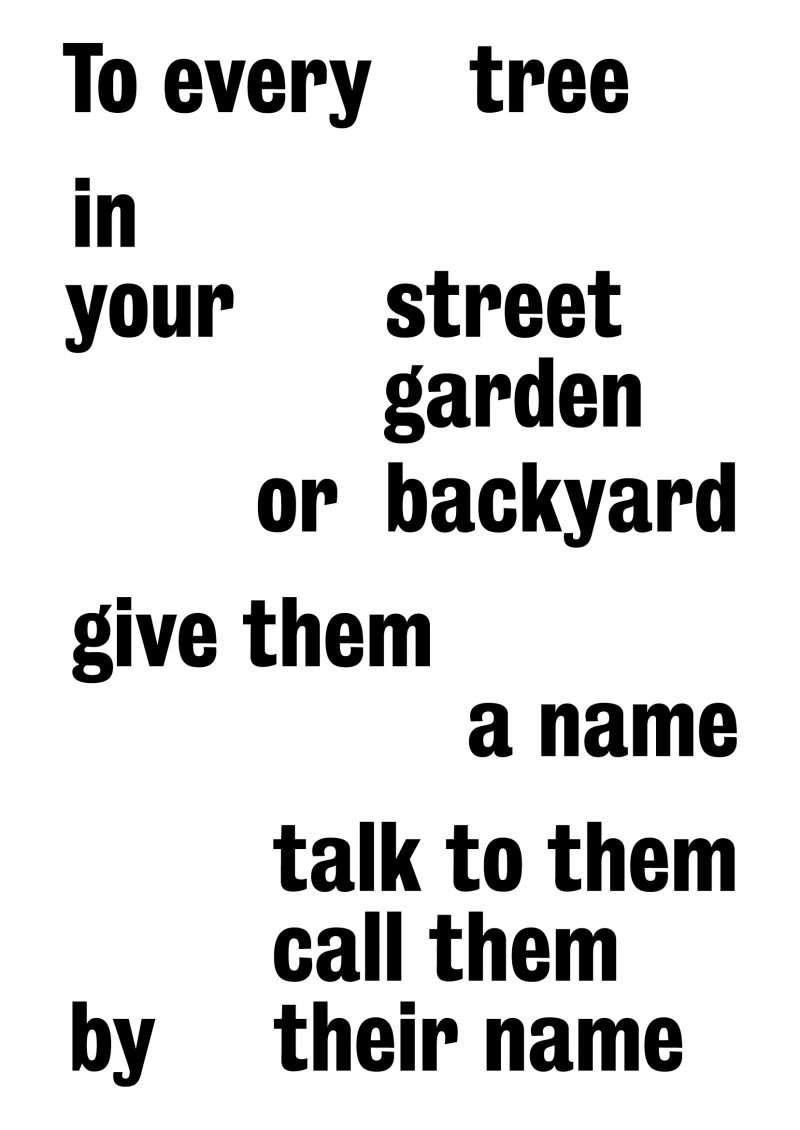 Opening
We cordially invite you and your friends to the opening of the exhibition: Thursday, June 23, 2022, 6 p.m. at the Federal Environmental Agency, Wörlitzer Platz 1, Dessau-Roßlau and afterwards at Schillig, Ferdinand-von-Schill-Strasse 23, Dessau-Roßlau.
Speakers: Andreas Lorenz, Head of Department, Federal Environment Agency; Fotini Mavromati, Art Officer, Federal Environment Agency; Prof. Brigitte Hartwig, Dean, Department of Design/Hochschule Anhalt; Bernard Vienat, art historian and curator; Andreas Greiner, artist.
The traveling exhibition is conceived by Swiss curator Bernard Vienat as a collaborative process with local partners; it evolves organically. In Dessau, it will be shown at two exhibition venues in parallel: On display at the Federal Environment Agency (UBA) are in addition to 14 artistic instructions, a selection of posters developed by students of the Department of Design realized especially for the project. Two further instructions as well as some additional students' works will be shown with the support of the Anhalt University of Applied Sciences at Schillig, a temporary project space in downtown Dessau founded by students.
In addition, the exhibition collaborates with a landmark project in Dessau, the Urban Farm community garden, in which the various facets of urban nature are made visible in an exemplary way. Two workshops are planned: one with the (working) title "Beikraut, Unkraut, Wildkraut" ("Weeds, Weeds, Wild Weeds") will focus, among other things, on the symbiosis of cultivated and natural plants; in a second workshop, the Urban Farm will come to the exhibition site at the UBA and invite visitors to a gardeners' meeting at the UBA's raised beds.
Dessau(re)connecting.earth presents works by: Caroline Bachmann, Julian Charrière, Eli Cortinas, Andreas Greiner & Takafumi Tsukamoto, Valèrie Favre, David Horvitz, Bianca Kennedy & The Swan Collective, Fabian Knecht, Antje Majewski, Luzie Meyer, Regina de Miguel, Adrien Missika, Pfelder, Simone Zaugg, Zheng Bo.
Students: Elisa Bolte, Max Bureik, Letchet Diehle, Alexandra Franke, Camille Fressencourt, Ansgar Friedrich, Nils Holbach, Stefanie Hutschig, Richard Klima, Friederike Osing, Francis Sabien, Aaron Siermann, Jan Stackfleth, Veronika Stratiewski, Frances Wießner
Instructions and art?
Instructions were increasingly used in performances in the 1960s and 1970s, but the exploration of them goes back further. An early precursor, Marcel Duchamp wrote the first "artistic" instruction as early as 1919 - as a gift for his sister's wedding. The instructional format forges special relationships between artists and audiences, who are invited to take an active and co-producing role in exchanging artistic ideas.
Urban Nature
Chicory and mullein blossom between parked cars, great tits nest in nest boxes on balconies, wild bees buzz in flowering meadows in parks, and wall peppers and the like thrive on green roofs in industrial parks. Urban nature enriches life in the city and improves the urban climate and air quality. More than three-quarters of people in Germany already live in cities. A variety of green spaces close to nature means a better quality of life - and this must be preserved and strengthened.
Opening hours Federal Environment Agency:
Monday to Friday: 9 a.m. to 7 p.m.
Saturday to Sunday: 9 a.m. to 4 p.m.
Free entrance
Opening hours Schillig:
Wednesday-Friday-Saturday: 3 to 6 p.m.
Ferdinand-von-Schill-Strasse 23,
06844 Dessau-Roßlau
Free entrance
More info:
Touring exhibition: https://reconnecting.earth/
Federal Environment Agency: https://www.umweltbundesamt.de/dessaureconnectingearth
Project space Schillig: https://schillig-dessau.de/about
Urban Farm Dessau: http://www.urbane-farm.de/
The production of (re)connecting.earth has been made possible thanks to Berliner Senat, art-werk, Loterie Romande, Stanley Thomas Johnson Stiftung, Goehner Stiftung, Umweltbundesamt, Fonds Mécénat SIG, Ville de Meyrin, Ville de Genève.