Action now! Workshop-exhibition with the students of HEAD
Discover by the lake of Geneva twenty proposals by art student to reconnect with the Earth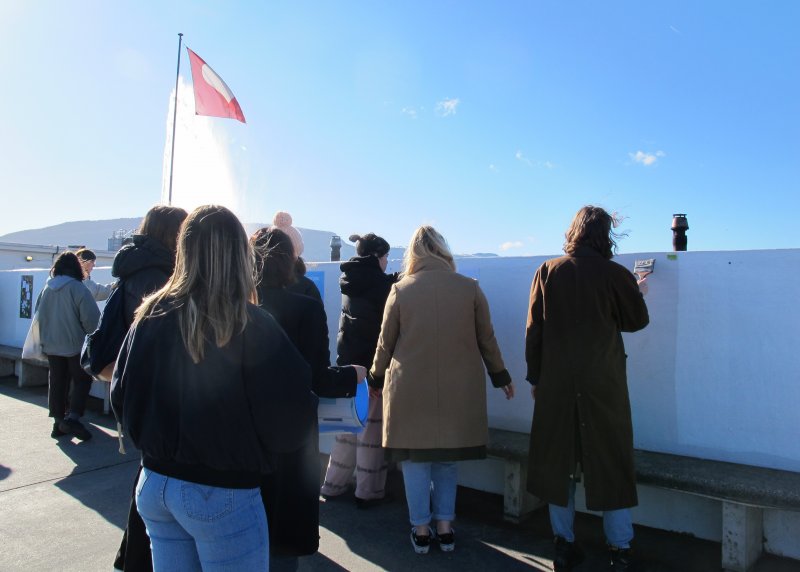 As a continuation of the (re)connecting.earth project launched this summer in Geneva and Berlin, twenty students from the Geneva University of Art and Design (HEAD) will present their works at the Bains des Pâquis for three weeks, the result of a week-long workshop on the theme of reconnection with the earth.
During the beginning of the school year 2022, at the fall of the masks, the students have, through theory and practice, developed a process aiming at the creation of " user's manuals " to favor the contact with other forms of living beings, human and non-human.
Starting from the idea of a "crisis of sensitivity", theorized by the French philosopher Baptiste Morizot, the works created in the form of instructions invite the public, in a concrete or metaphorical way, to a direct contact with the immediate environment. While current discourses on the environment and climate change have a high degree of abstraction, the aim here is to discover how to (re)direct our attention through action.
The instructions made by the students in drawings, collages, photomontage, typographic research are published as posters and presented to the public.
Public opening on 25.02.2022 at 11:00
Exhibition from 26.02.2022 to 11.03.2022
Bains des Pâquis
Quai du Mont-Blanc 30, 1201 Geneva
The Action Now ! (re)connecting.earth workshops are organized at HEAD under the direction of Caroline Bachmann (HEAD) in collaboration with Bernard Vienat (art-werk).
Many thanks to the Association d'usagères-ers-x des Bains des Pâquis for their warm welcome!